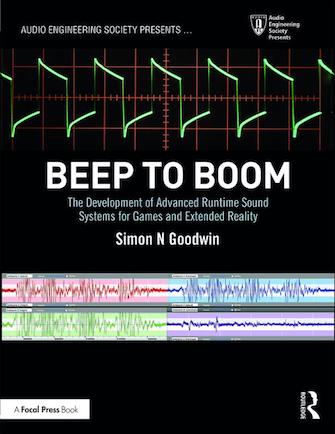 FROM BEEP TO BOOM:  ADVANCES IN GAME AUDIO
Simon Goodwin
Weds 4th December 2019.
Details:
Simon N Goodwin has been making games and audio tech for almost 40 years, with British firms like Codemasters, Attention to Detail, and Silicon Studio Ltd, and with multinationals like Amiga, Atari, Creative Labs, DTS, Electronic Arts, Intel, Motorola and Sega. These days he's an interactive audio technology consultant based in Warwick, UK.
Simon has pioneered the use of seemingly dead-end 1970s British tech like Ambisonics in Virtual Reality and games like Grand Theft Auto; helped get six games to number 1 in the full-price charts here and abroad, as principal programmer and an experienced sound designer; picked up five patents and a couple of BAFTAs; and written a book, Beep to Boom, for the Focal Press 'AES Presents…' series, which came out earlier this year.
He advises on past and current EPSRC and AHRC research projects, has lectured on interactive audio at GDC, the global Game Developer's Conference in San Francisco, and helped to found the AES's international Audio for Games conference series.
In this talk Simon will drill open the 'black box' of game audio runtime systems, identifying the 'objects' in Object Audio and how they're built and managed from psychoacoustic and signal-processing principles, grounding his explanations with practical advice and anecdotes. He will answer questions at the end, which could be even more interesting.
Getting here:
Details of how to access the university can be found at: https://www.solent.ac.uk/about/find-us
Registration and getting here:
To book a place at this talk, please use the Eventbrite link below:
https://www.eventbrite.co.uk/e/from-beep-to-boom-advances-in-game-audio-tickets-74800258587?ref=estw
Parking space cannot be guaranteed, but is usually available in the main university car park, accessed off St Andrews Road (SO40 0YN).   Other city centre car parks are available.  We are within 5 minutes walk of Southampton Central Rail station.