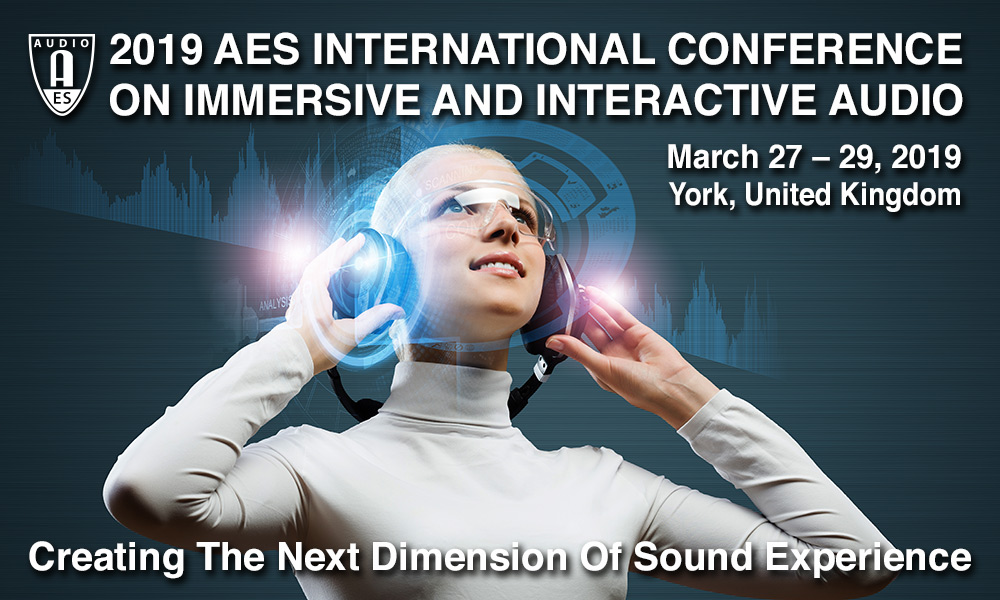 2019 AES International Conference on Immersive and Interactive Audio
March 27 – 29th
University of York UK
Call for Papers
Immersive audio systems are ubiquitous and range from macro-systems installed in cinemas, theatres and concert halls to micro-systems for domestic, in-car entertainment, VR/AR and mobile platforms. New developments in human-computer interaction, in particular head and body motion tracking and artificial intelligence, are paving the way for adaptive and intelligent audio technologies that promote audio personalisation and heightened levels of immersion. Interactive audio systems can now readily utilise non-tactile data such as listener location, orientation, gestural control and even biometric feedback such as heart rate or skin conductance, to intelligently adjust immersive sound output. Such systems offer new creative possibilities for a diverse range of applications from virtual and augmented reality through to automotive audio and beyond. This opens up exciting new opportunities for artists and audio producers to create compelling immersive experiences. This three-day conference will explore the unique space where interactive technologies and immersive audio meet and aims to exploit the synergies between these fields. The conference will include keynote lectures, technical paper sessions, tutorials and workshops, as well as technological and artistic demonstrations of immersive and interactive audio.
Deadline for papers is 15th November 2018
Deadline for proposals for Workshops and Tutorials is 1st November 2018
You can find the Call for Papers here.