AES UK Section Volunteers
The AES UK Section would like to thank Focusrite and Acustica Audio for their endorsement of the Student Recording Assistants. Our Student Volunteers use Focusrite interfaces for the recording of all our London meetings, and prepare the final mixes by taking advantage of the latest Acustica Audio's plug-ins.
---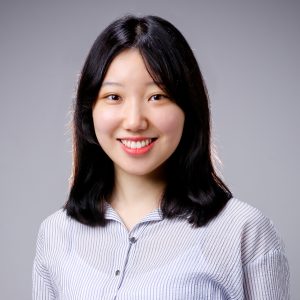 Haena Cho – North of England Volunteer 2018 – 
Haena Cho is currently studying the BSc in Film and Television Production at the University of York, preparing to be a sound designer. She is working on short films. She recently worked in some Korean TV series as part of an internship.
---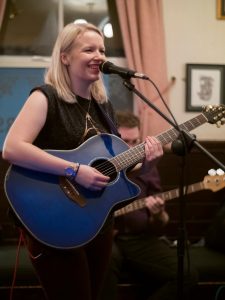 Sophie Mapplebeck – North of England Volunteer 2018 – 
Sophie is a sound designer, composer, audio editor, singer and guitarist currently studying an MA in Postproduction with Sound Design at the University of York. Her biggest achievement to date is composing the soundtrack for wildlife documentary The Tigers of Scotland which was recently released on Netflix and Amazon Prime! She is currently pursuing a career in sound design with an aim of working in film or animation.
---
Chris Kurtz – North of England Volunteer 2017 – 2018
Chris Kurtz grew up loving the performing arts from children's choir to marching band and school plays. He received his Bachelor's Degree in Theatre with a Concentration in Sound Design at the University of Illinois. He worked in sound for theatre and live events in Washington DC and Boston where he was a member of the sound team for "Finding Neverland" at the American Repertory Theatre.  He is studying at the University of York. While working on a Masters in Postproduction with Sound Design he is exploring work in television and film sound with the hope of working as a dialogue editor.
---
Calvin Lennox – North of England Volunteer 2017 –
A budding musician and sound engineer, Calvin is currently studying
Postproduction with Sound Design at the University of York. Coming from
a background focused on music production, he hopes to explore further
work in many areas of the audio industry such as sound design for film
and games, with a keen interest in surround sound and
spatial audio.
---
Recording Engineer – Benedict Sanderson (SAE) [from April 2016]
Benedict began playing piano at a young age, and soon afterwards moved on to playing trumpet and guitar. Inspired by many types of music, he started writing and performing his own material from the age of 15 and creating his own rough recordings. After a short time studying Forensics and teaching English abroad, he decided to settle in London again and pursue an education and a career in audio engineering and production, where he started studying Audio Production at SAE London. Since starting the course, many aspects of audio production have taken his interest, including procedural audio, live sound, and composition. He has recently started mixing for live shows and recording audio for on-location music video shoots, whilst aiming to find a balance between producing, composing, and performing.
---
Recording Engineer – Jim Donaldson (SAE) [from April 2016]
Jim learned to play instruments from a young age, and was lucky enough to be introduced to digital audio and computer music an the tender age of 10. Whilst studying biochemistry at Imperial College London, he formed part of several bands and hosted a college radio show, and quickly discovered that he enjoyed the engineering and production far more than performance or his actual studies. These experiences piqued his interest in the idea of creating, recording, arranging & producing his own and others' work and so he enrolled at SAE Institute in early 2015 to further his education and training. Jim has been involved in running live events in south and east london over the last few years & since starting at SAE has developed a keen interest in all aspects of audio production; in particular live recording, procedural audio and post production.
---
Recording Engineer – Axel Drioli (SAE) [from April 2016]
Axel Drioli began sampling and making music when he was 15. Always eager to start mixing tracks before they were even complete, he decided that the technical side of music production was the path he wanted to follow. As a result of his interest in music-making without being bound by different genres, he moved to London to get involved with the music industry there and study Audio Engineering. In 2015 he enrolled at SAE Institute and started his career, buying himself some portable recording equipment and began recording on location as a freelancer. He started recording events and performances, learning about acoustics, how sound behaves, and how we listen and perceive sound in different environments; enabling him to improve his mixing skills and to better craft audio products in the studio. In addition to mixing, he's interested in Ambisonics recording and Binaural rendering techniques.
.
---
Recording Engineer – Kevin Jianoran (SAE) [from summer 2015 to April 2016]
Kevin Jianoran's life as an audio engineer started at 14 when he was introduced to sound for theatre. At the time, his studies focused on Technical Theatre and Music at Paddington Academy, and he wanted to pursue a career as a Theatre Sound Technician. Music became a huge involvement in his life, with his influences fuelled by American Pop-punk bands such as Paramore, Sum 41 and Blink 182. In 2011 he studied Music Technology at Havering College, where he was introduced to the art of recording. In 2013, he spontaneously decided to study Audio Production at SAE London. Since then he works as a freelance audio engineer, and currently works as a live sound engineer at Strongroom.
---
Recording Engineer – Danny Feng (SAE) [from start of 2014 to summer 2015]
Danny Feng began recording at the age of 15 while working on his own music in his bedroom studio. Most of his compositions are influenced by the progressive rock and experimental scene. Very soon after his first recording experiences, Danny realised that he wanted to pursue a career as a professional engineer. In 2010 he went to study Music Production at the University of Northampton. In 2012 he moved to London and in 2014 obtained a Degree in Audio Engineering at SAE Institute London. Since then he has recorded and worked with different musicians across genres from classical music, folk and indie, to heavy metal. In his studies, he has also taken an interest in sound for film. Danny is currently working as sound engineer for the Mahogany Media Group.
---
Recording Engineer – Riccardo Damian (SAE) [from start of 2014 to summer 2015]

Riccardo Damian was born in Treviso, Italy, in 1993. He started playing guitar at the age of six, and quickly showed interest in other instruments like drums, bass, and keyboards. After performing for many years, at 15 he was introduced to the world of audio engineering while working in a small project studio in his home town. A year later, Ricky became an Assistant Engineer at Magister Recording Area — one of the biggest recording studios in North Italy. He took part in some major projects featuring artists as Umberto Tozzi, Yahir, Egonon, El Cuento de la Chica y la Tequila, amongst many others. At the age of 19 Riccardo moved to London to start the Audio Production degree course at SAE Institute London. Two years later he was offered the position of 'in-house engineer' at Mark Ronson's private studio "Zelig" in King's Cross, London. Since then Riccardo has had the chance to work with artists such as Duran Duran, Nile Rodgers, Mark Ronson, Bruno Mars and producers like Jeff Bhasker, Zane Lowe, etc. In 2016 Ricky became a Grammy Winner for 'Record of the Year, Uptown Funk by Mark Ronson featuring Bruno Mars'.